Kathmandu: The embassy of the People's Republic of China hosted a reception at Kathmandu on the occasion of the 69th anniversary of the founding of the People's Republic of China on Friday.
His Excellency Vice-President Nanda Bahadur Pun, Speker of the Federal Parliament Krishna Bahadur Mahara, Acting Prime Minister and Defence Minister Ishwor Pokharel, Deputy Prime Minister and Minister for Health and Pupulation Upendra Yadav, Minister for Energy and Water resources Barsha Man Pun, leaders from different parties, high government officials, chiefs and representatives of diplomatic missions in Kathmandu, chief of security forces, among others, attended the function held to mark National Day of the Peoples' Republic of China.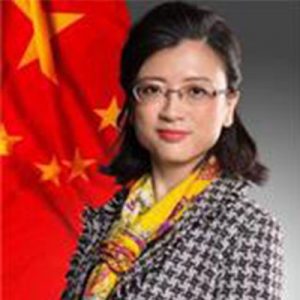 Her Excellency Ambassador of China to Nepal, Yu Hong, welcomed the guests and expressed her sincere thanks to all who had been supporting the development of China and dedicating to Nepal-China friendly cooperation.
In her welcome speech, HE Ambassador Hong said, "In the past 69 years, under the strong leadership of the Communist Party of China, the Chinese people have forged ahead in unity and with fortitude, and achieved momentous success in socialist revolution, development and reform. We have embarked on a development path toward the modernization of an ancient civilization."
HE Hong highlighted the reform and opening up of China, "In the past 40 years of reform and opening up, China's economy has grown at an average annual rate of 9.5%, which has made China develop from a low-income country to an upper-middle income country. China has built the world's largest social security network with a basic pension insurance system covering more than 900 million people and basic health insurance system covering 1.3 billion people respectively."
Her Excellency added, "Through 40 years of economic development, China has lifted 700 million people out of absolute poverty, accounting for more than 70% of the world's total poverty reduction in the same period. China has contributed more than 30% of the global economic growth for many years and has become an important power house for global economy development. Under the tide of globalization, the development of any country goes beyond its own business. China's development is benefited from globalization and benefits the whole world in turn."
HE Ambassador Yu said that China was still faced with serious challenges of development. "China's per capita GDP ranks 71st in the world. China has more than 30 million people living in poverty, more than 80 million disabled people, and we need create new jobs for 15 million people every year. China will continue focusing on development, people's livelihood and reform. China will work even harder to advance reform and opening up, adjust the economic structure, raise the quality of made-in-China goods and service, move its industries to a medium-high end."
Her Excellency Hong expressed that China would firmly uphold multilateral trade system, continue promoting new type of international relations and a community with a shared future for mankind, and promote the cause of human progress and said, "This year marks the 5th anniversary of the Belt and Road Initiative. BRI practice has shown that the Belt and Road Initiative is to facilitate win-win cooperation for promoting common development and achieving common prosperity. It injects new momentum into the common development of the global economy."
"Since the establishment of diplomatic ties 63 years ago, China-Nepal relations have been keeping healthy development under the principle of equality, mutual benefit and mutual respect. China supports and fully participates in Nepal's economic and social development. China is Nepal's important development partner in the areas such as infrastructure, power development, communication optic cable, agriculture and technology, education and culture, tourism and aviation, capacity building, health, people's livelihood, disaster prevention and mitigation, and cultural heritage renovation. The projects cover all seven provinces."
The Chinese ambassador said that the frequent exchanges of high level visits between the two neighbours had taken the age-old relations to a new height. "The two countries have made fruitful cooperation achievements in various fields. Particularly, Nepal Prime Minister K.P. Oli made a successful official visit to China last June. The two sides will strengthen cooperation under the Belt and Road Initiative and build the trans-Himalayan Multi-Dimensional Connectivity Network. The two sides signed a number of cooperation agreements including the Economic and Technical Cooperation Agreement. Last month, the two side reached consensus on the Protocol of Transit Transport Agreement."